For your dog's sake..Please research your trainer.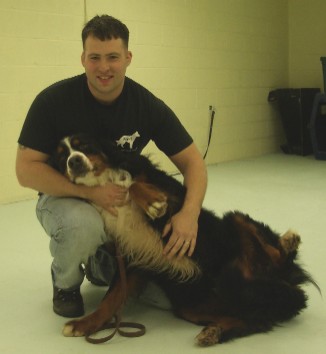 K9-1 was recently recognized by the BBB for an outstanding customer satisfaction record!
Can Your Dog live 25 - 30 Years?
This is a must read if you love your pet!
Here is a peek at a typical training session of two unfinished dogs during in-kennel training. This will give you an idea of the teacher/student relationship and bond Mike forms with the dogs. In this clip you will see Mike demonstrate respectful corrections to help the dogs with reliability around a medium level distraction.
This is a video of Zach (Bermese Mountain Dog), Buster (Beagle), and Zeus (Fila Brasileiro).
All three of these dogs were extremely unruly before starting the training. The video is three short clips demonstrating some standard off-leash control outdoors and work with Zeus's owners.
This is a clip of a young dog starting guard dog training. You will not see this kind of calm control anywhere else. Our protection trained dogs are actually safer than an untrained dog. See why we are unmatched in training quality.
Here's Mike on NBC pet proofing a home. Nothing too impressive here, but its cool to be on TV! Keep in mind Pet Proofing is NOT a substitute for proper training.
Here's Mike teaching a puppy to "sit" and "down" in a little instructional clip he was asked to do for Howdini.
Here's another clip from Howdini with instruction on how to clean a dog's ears.
Learn how to brush your dog's teeth in this one!